5225-5 Tara Flower™ Copper and Brass Rain Chain, 8 Feet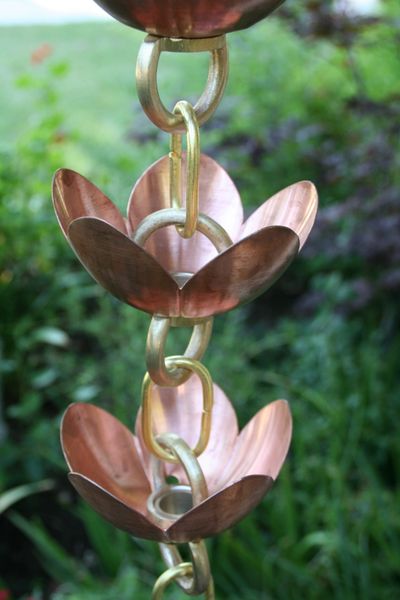 This spectacular chain features a very large, hand hammered cup! The pure copper cup (with petal details) is suspended between thick, pure brass rings. This is a gorgeous sculptural piece for your home, and functional too. With a large central hole flanked by three smaller drain holes, this chain will handle diverse rainfall conditions.
Based on the Buddhist deity Green Tara, who holds a lotus in her hand.
Each 8 foot section starts with a brass link and ends at the bottom with a thick brass loop. Extension units, which add 5" each, consist of a copper cup, brass link and two brass loops which can easily be inserted anywhere on the chain.
Recommended Accessory: Copper Installation Kit (RCR-1).

· Custom lengths are available!
· Tweetie offers free assembly and free local installation of all Rain Chains purchased in our store.
· 10% off two or more rain chains!
· LIFETIME WARRANTY