3124 Copper Bells, 8.5 Feet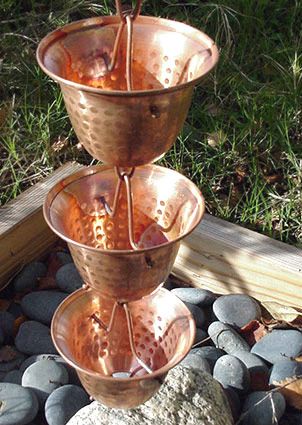 These exclusively designed, pure copper bell cups are breathtaking!
They feature a folded lip at the top (for stiffness) and hand hammered accents.
With a 1" opening in the bottom of each cup, they will handle all waterflow conditions. Our copper is thick and tested for purity. This product will last a lifetime.
To prevent damage in transit and reduce packaging volume, the upper wires are shipped separately from the cups, so some assembly is required -- it takes just a few minutes with no tools.
Comes with a free V-hook for installation, we also recommend RCR-1 Installation Kit.
· Custom lengths are available!
· Tweetie offers free assembly and free local installation of all Rain Chains purchased in our store.
· 10% off two or more rain chains!
· LIFETIME WARRANTY
Technical Specifications:

cup width:
cup length:
standard length:
# cups (std. length):

2 1/4"
2 3/8"
8 1/2 feet
28