3126 Kanji Cups #1, 8.5 Feet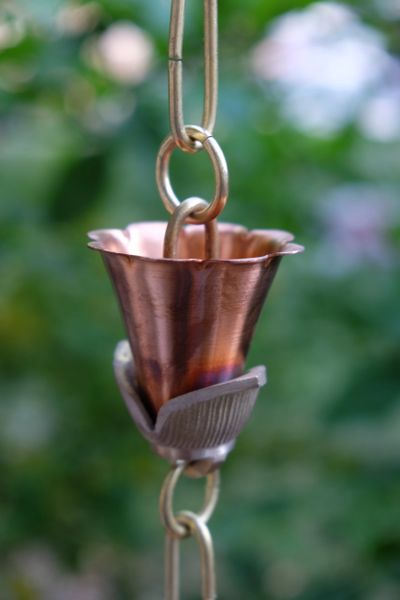 #3126 Kanji Cups™ #1
Kanji Cups™ is a new design of mixed metals. Large flowers in pure copper are supported by thick hand cast, detailed brass bases, with pure brass links separating the cups.
As the chain ages naturally, the two metals take on different tones of color, a beautiful and unique look.
Designed and Patented in the U.S.A.
Recommended Accessory: Copper Installation Kit RCR-1

Technical Specifications:

cup width:
cup length with base:
standard length:
bottom opening:
# cups (std length):



4 3/4"
4 1/4"
8.5 feet
3/4"
13
· Custom lengths are available!
· Tweetie offers free assembly and free local installation of all Rain Chains purchased in our store.
· 10% off two or more rain chains!
· LIFETIME WARRANTY