AMERICAN BAYBERRY REGULAR WAX POTTERY® VESSEL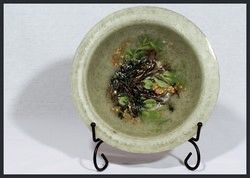 Gift Boxed 7" Diameter Fragranced Wax Vessel

Home Fragrance
Without A Flame™

Fragrance Notes:According to legend, Bayberry brings good luck and prosperity to your home through the year. Wonderful blend of cedar wood, oak moss and earthuy bayberries, this one is woodsy and fresh! the fragrance of an American Tradition.

Stands sold separately on Accessories page.