The Blue Bird Haven, for 6 families!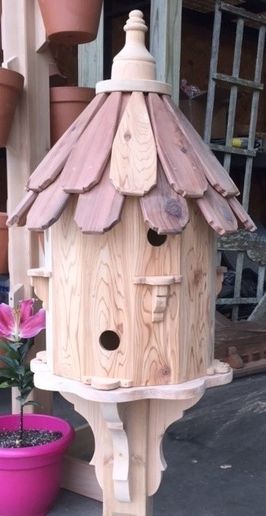 The Blue Bird Haven is shown above is made of western red cedar. There is so much detail to this birdhouse! Six individual nesting cavities provided. Two side panels are hinged on solid brass hinges and lift upward for easy cleaning! Simply remove the wood peg and lift upward to exposed the 3 levels. The cavities and hole size are specifically sized for the Blue Birds!

As always, you have your choice of wood for this house. Please choose from the drop down menu. Western red cedar, pressure treated fir, pine/fir, or cypress.
Free local delivery. Post is included. Installation an additional fee. Painting and additional fee.
Your birdhouse will come with a solid brass identification plate.